Yes, some hobby stuff once more!
I've been fairly busy with work as of late amongst other things, but just about whenever I've had the chance I've been beavering away on the Venatio Accipiter again. The result of this is a model with the legs now completely basecoated with Charadon Granite. Why you ask? Well because I liked the colour so I started applying that, I'm thinking a mix with Catachan Green to bring it up a bit next, plus plenty more work on the metal. This has been the reason for quite a dry month as far as hobby is concerned, it's taken rather a long time!
The base meanwhile I'm intending to do with a moorlandish feel, something like in the picture below, there will be a pool in the center of the base with scrub and the like around it. My hope is this will be suitable more impressive then how I do my bases normally (quickly!) while it'll still blend in with them when the army is used as a whole.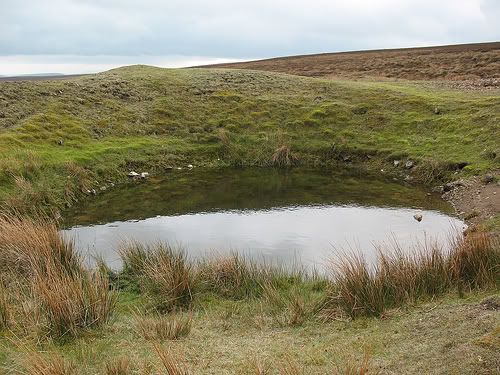 I've also been working on the forward portion of the main hull's interior which I hope to update with pictures next time, indeed with a bit of luck I'll be able to get the main portion of the hull pinned together and ready to start work on it's exterior. I've also just recieved a Lucius Pattern Turbo Laser to replace the Vulcan Mega Bolter, I'd planned to convert this to fit in with the Mars pattern, however it seems that Forgeworld may release the actual Mars Pattern arm far sooner then anticipated as it was on show at GD Baltimore - we'll see how get's to the arm first, me or Forgeworld.
My money's on Forgeworld.