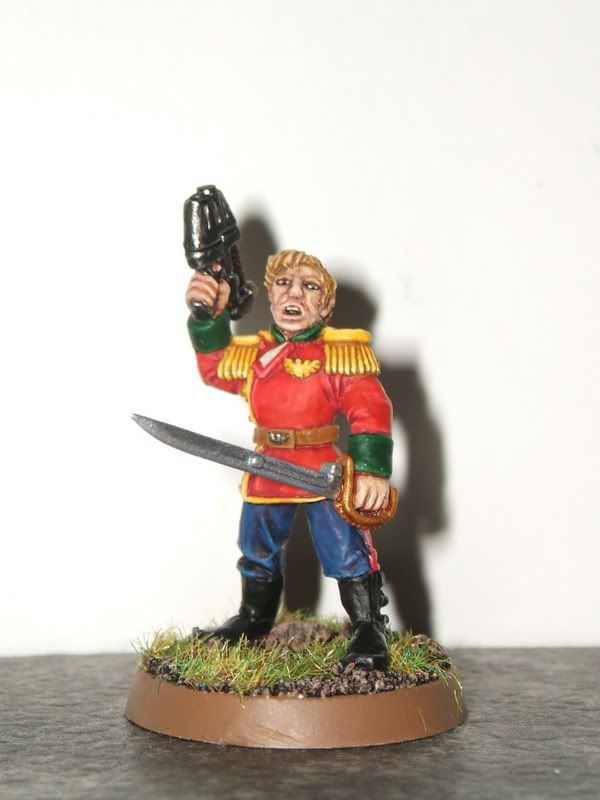 With the second battle of Orks Drift little under a week away my thoughts are turning to formalising some sort of characterful special rules for Captain Caine, the commander of the defence. During the first battle he was a Heroic Senior Officer with tools from the armoury - which served him fine until he was jumped by the local Ork Special Characters the so called 'Waaaghhh Team' - he copped it in short order. Now thats not to say he should be some sort of combat monster, that would'nt fit, but perhaps a few additions to mark him out from regular officers for the purposes of the scenaio?
Captain Caine 90pts

WS4 - BS4 - S3(4) - T3 - W3 - I4 - A3 - Ld9 - Sv5+

Wargear: Heirloom Power Sabre, Plasma Pistol, Medallion Crimson

Special Rules:

Independent Character
Leadership Rule (as per IG Codex)

Heirloom Power Sabre - A Master-crafted power sword which hits with S4 (included in profile), that also counts as a trademark item.

Stand Fast - Captain Caine is Stubborn and confers this ability to any unit he joins.

Fix Bayonets! - Captain Caine benefits from Counter-assault and confers this ability to any unit he joins.
Hows that sound? The idea is to have a support character who improves the abilities of the regular guardsmen around him, he relatively nasty in assault for a Guardsmen, but is still fragile - left unsupported he wont last long.