Yep, here I am again, I did'nt get Colonel Ackland finished for my deadline but such is life, I'd rather do a job I'm happy with then rush it, as is his arms are sculpted so I'll get a post with an update on him soon - I had taken some pics but they came out blury.
Other projects on the go at the moment include the Sister of Battle, which are giving me a headache as I just cant settle on a quick but effective colour scheme. I'm running into my old enemy of not being able to settle down to painting anything thats not quite Guard! I've tried a blue and a green scheme now - may end up just going black after all.
The Levaithan has seen some loving with front plates added, the aquilla and some pseudo barrel rifling inspired by a much better example on
Ultrawerke
, next up, well I want to get the front rivets done.
I've started painting a Commissar (just because!), and I must admit the new models are still growing on me - though the Nintendo Power Glove is still a little off putting!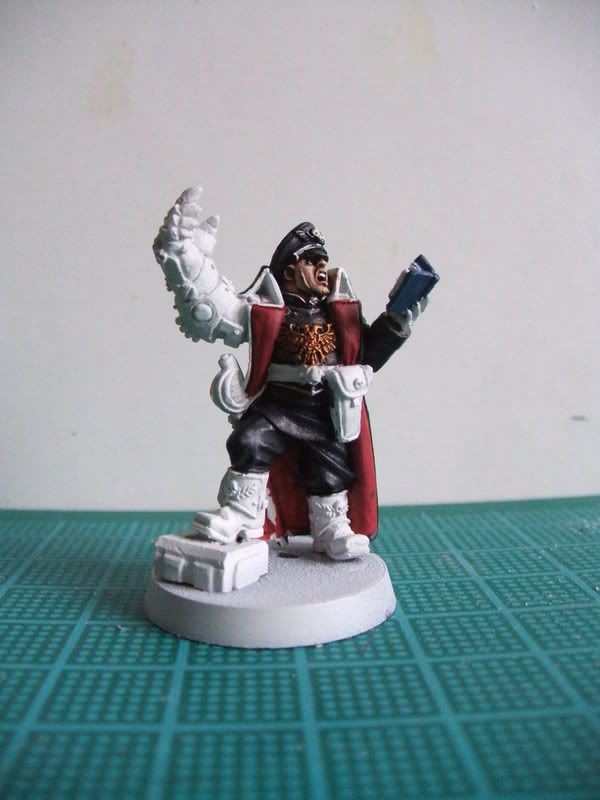 Work continues on the Praetorian Resin bits - more on this again soon.
I've begun work on a Baneblade, I'm quite excited by this one, I've wanted to do one of the new Baneblades as a Baneblade for a little while and now I am I want to make a meal of it. The plan is to magnetise both the fore an aft sponson/plate sections to allow swapable sponsons or no sponsons and perhaps more ambitiously the upper hull so that in the future I can convert/scratch build some new upper hull sections to allow the hulls use as potentially any of the Super Heavies based on the Baneblade chasis - I'll do a tutorial on this later on.
Finally for now, a new addition for the Tutorials ready to roll, a simple Apocolypse Minefield. I decided early on I wanted one for a recent Apoc game so I came up with this as an easy way to make one as opposed to using mere counters or paper markers.