The chasis of the Baneblade I'm building is now complete, it's looks rough, and to be honest it is, but it's also functional with the key bits magnetised to allow me to swap them around. Though for now I'll only have the Baneblade option thinking ahead with my spares I'll be able to field it with no, one pair or two pairs of sponsons and with an alternative hull top which will allow me to potentially put together a Stormblade, Shadowsword or Stormsword initially. I see no reason I might not be able to do a Stormhammer or Stormlord option in the future as well, the later was initially rumoured to be Chimera like hence magnetising the rear engine block though looking at the pictures which are now about it would appear that there is not a rear hatch as this suggested.
Small magnets are locaeted inside the track assembly and on the components to allow the fore and aft plates to be fitted with plates or sponsons as desired.
Larger magnets are used to hold the upper hull in place are mounted on struts and on the underside of the upper hull, the same for the rear engine block, it all fits together pretty snuggly though.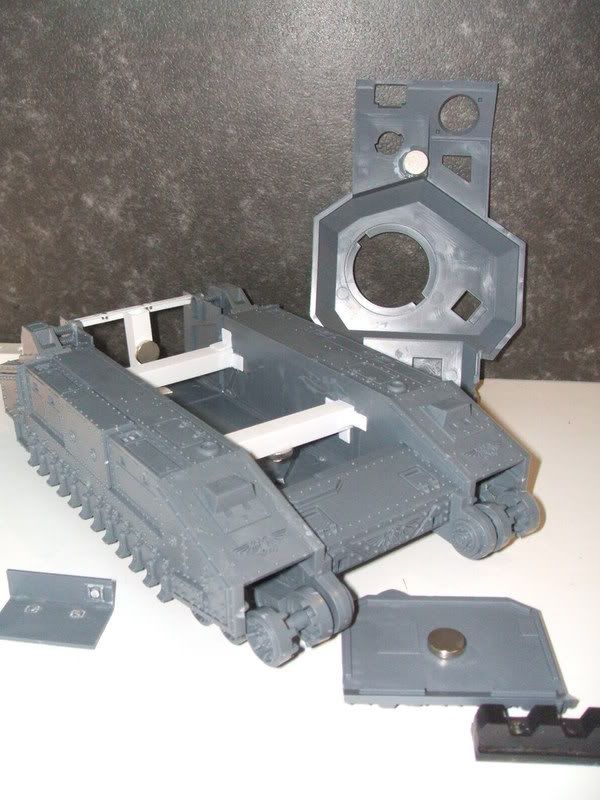 As too that resin addiction, I managed to pick up a Battery of Forgeworld Heavy Mortars from the Krieg range on ebay at a nice discount and they've just arrived, I've only dry assembled em so far, not even cleaned em up but I've got to say I love these models, really simple but look great, I'll get these done pretty sharpish I think! Now just need to keep my eyes open for some Thudd Guns!