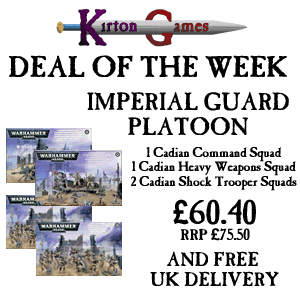 This weeks Deal of the Week from Kirton Games is sure to appeal to Imperial Guard players!
An Imperial Guard Infantry Platoon deal which includes a Cadian Command Squad, a Cadian Heavy Weapons Squad and two Cadian Shock Trooper Squads all for £60.40 including UK Delivery.
Thats a fantastic 20% off the RRP!
Don't miss out, the deal ends on Monday, with another Guard deal you won't want to miss being announced on Friday evening! And don't forget the previous deal from Curious Constructs is still valid as well, with the Platoon Deal you'll earn yourself a further £12.00 in money off Vouchers on top of the 20% already saved from RRP!