Following the recent passing of my
grandfather
I decided I wanted to try to raise some money for the charitable organisations which provided so much support to him, and to the rest of the family - and do the same for so many others.
http://www.blogger.com/img/blank.gif
The first of the organisations I want to support is
Hospiscare
, this is a local charity, which covers Exeter, east and mid Devon (there are many similar organisations doing the same work across the country).
In the experience of my own family Hospiscare's support was vital. They made it possible for my grandfather to remain at home throughout his illness, surrounded by family as he wished. This meant providing and/or organising medical and other equipment and the staff to install this, as well as the carers who visited regularly, and in the later stages stayed all night. For the family they were always on hand to talk to, to provide information, and generally help in any way they could, and even now this support has continued. All of this support was; and is, free of charge, but as a charity depends upon financial support.
For me as a hobbiest, and for my grandfather as my greatest creative inspiration, it seems only fitting to fund raise through my hobby. Thus, I hope this will be the first of many charitable projects of varying scales in the future.
Amongst my collection is a good number of Mordian's, probably unsurprising given my Praetorian army. I have decided to put these together to form the core of an army, fully painted as ready for battle, to which I am adding quite a bit more! Once finished the army which will be at least 1500pts worth will be auctioned off on eBay, with 100% of the final value going to
Hospiscare
.
I've begun to bring together this collection, digging through the various boxes under the bed, at the moment I'm in the process of stripping an Infantry Platoon which will form the core of the army. However I've also painted up a test model.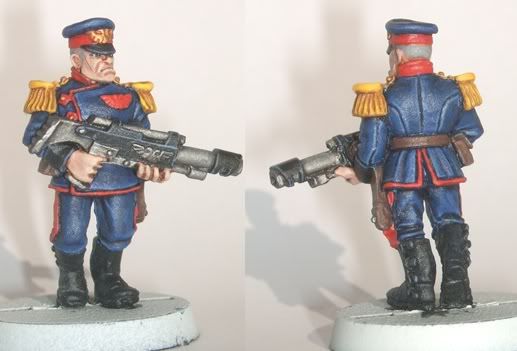 After some discussion on some of the forums I visit, I'm thinking that the aquilla on the chest will instead be silver - or perhaps yellow. I've also been asking for ideas on basing, and several suggestions of cobblestones have been made. I'm quite fond of this idea, with the idea that I'll perhaps sculpt a large area of them, then make a press-mould. I did think about buying some resin cast bases, but though there are many options most only have a small range in each design which I'd rather avoid.