Well then, in assembling the Roughriders I was a bit disappointed to have discovered a minor flaw which appears in the models, but was'nt really noticeable when it was just bare metal. Along the mold line where the legs join the tunic there is a imperfection where the metal has'nt flowed properly. You can see this below. On the bright side it is very easy to fix, just filling in the 'dent' with a little greenstuff.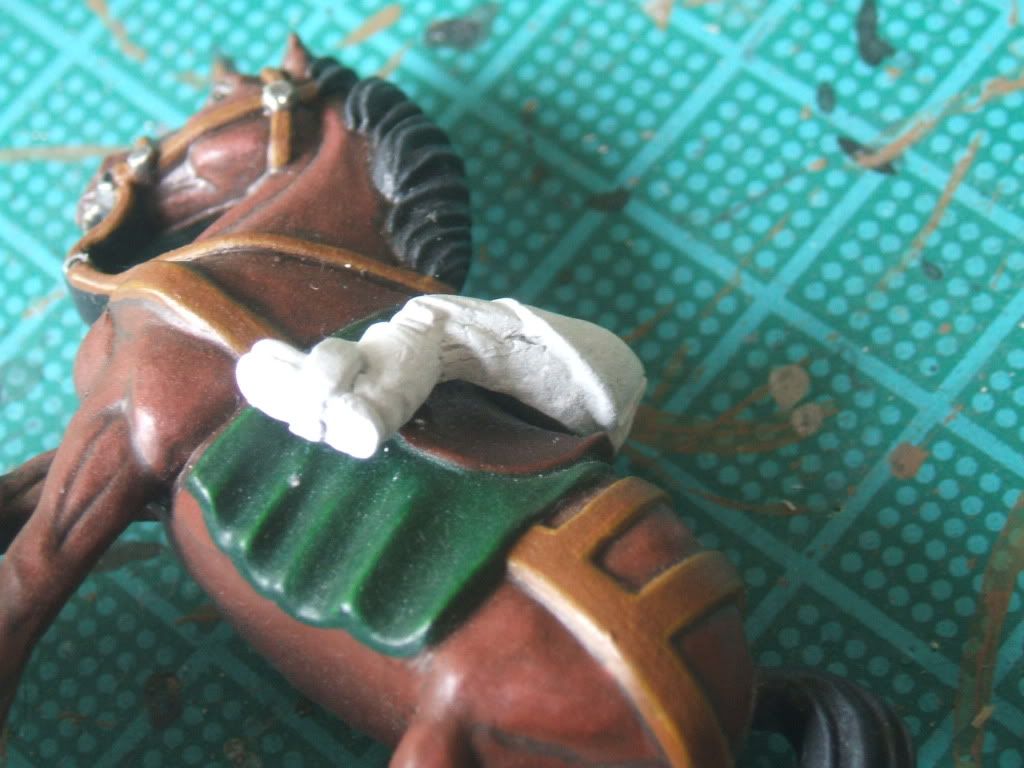 The other points to note were more expected. Though the models are designed to fit the WFB Empire Pistolier horses, the saddles of the three different designs of horse vary slightly. The figures fit perfectly and snuggly on one design, the others are a bit too snug and require that you push the legs apart slightly (being metal there is only a little give, but this is sufficient). You are also left with a gap between the legs and saddles on two of the designs, which looks best if filled, though this is by no means essential.
In addition for best results its good to fill in small gaps between the joints, these are generally tiny as you can see below where I've filled them.
These fixes done the models assemble pretty damn well, with the addition of a head from Secret Weapon I spent an evening paint brush in hand and following the blue/white schemed I've used previously. The following is the result and I'm really pleased with it, now to get on with the rest of the unit! One quick tip though, I'd recommend attaching the legs to the horse for painting, and assembling the torso, arms, head an lance seperately, only joining the two together once they're finished, its much easier then trying to paint a fully assembled model.